Beskrivelse
The DRM18S 2000W 18" Professional Powered Subwoofer delivers class-leading power via an ultra-efficient Class-D amplifier with next-gen protection and Power Factor Correction technology provides peak low-end performance when you need it. Advanced Impulse™ DSP provides acoustic correction for accurate, punchy sound typically experienced only with massive touring systems. The DRM Control Dashboard™ features a high-contrast, full-color display for quick access metering, crossover settings, and more. Designed to match the rest of the DRM Series perfectly, the DRM18S is stackable, flyable, and is equipped with a pole cup for maximum versatility.
If you want to complete your PA with serious low-end, the Mackie DRM18S powered subwoofer is the ultimate solution. Decades of innovation in DSP technology and amplifier design allowed us to optimize the DRM18S to its fullest potential. With ultra-efficient power, an over-engineered cabinet, and Advanced Impulse DSP tuning, the Mackie DRM18S has everything you need to shake the room.
ADVANCED IMPULSE™ DSP MODULE
What does it do for me?
Mackie's filtering technology is not your typical speaker processing. The goal of our Advanced Impulse™ DSP is to remove all the anomalies that loudspeakers and horns contribute to a signal, from "honkiness" or "squelch" to "mushy" low end, effectively making the drivers "invisible" and output nothing but perfect, clean sound. By more intelligently (and more thoroughly) employing the benefits of FIR filtering, Advanced Impulse DSP eliminates undesired acoustic anomalies across the entire dispersion zone (horizontal and vertical), as well as frequency range and time domain.Mackie Advanced Impulse DSP
HOW IT'S DONE
The main way this is accomplished is by measuring the negative frequency response and time domain impacts that each transducer and horn in the system introduces – on axis as well as off – and reversing/correcting for those anomalies before the signal hits the speaker. The result is the output from the speaker is fully corrected for flat, clear, time-aligned, and smooth sound throughout the entire time, space, and response domains. Want to learn more? Check out the full rundown from a Mackie Acoustic Engineer!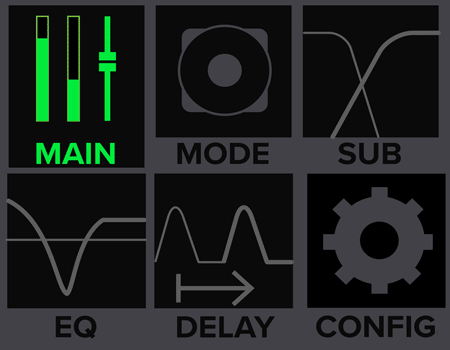 DRM CONTROL DASHBOARD™
When setup time is limited, changes need to happen on the fly, or you just want to get your system going without extra hassle, the last thing you need is the controls on your loudspeakers being difficult.
The DRM Control Dashboard™ starts with a big, bright, full-color display that is easy to read and offers unmatched visual feedback on levels, adjustments, and more. The default window keeps you informed on every critical setting at a glance. Big green level meters let you know clearly when you have signal and if it is clipping.
But how do I control it? One single knob, that's it. Spin to select what you want, push in, set it how you like it, done.
CONTROL OVERVIEW
3-Band Parametric EQ
Venue Specific Voicing Modes
Array Modes (DRM12A Only)
Variable Crossover
Alignment Delay
Configuration
Real-time amplifier temperature
DRM18S FEATURES
Polarity invert
Variable crossover with DRM loudspeaker preset
Cardioid mode (requires multiple DRM18S subs)
Alignment delay
Comfiguration / Lock
Real-time amplifier temperature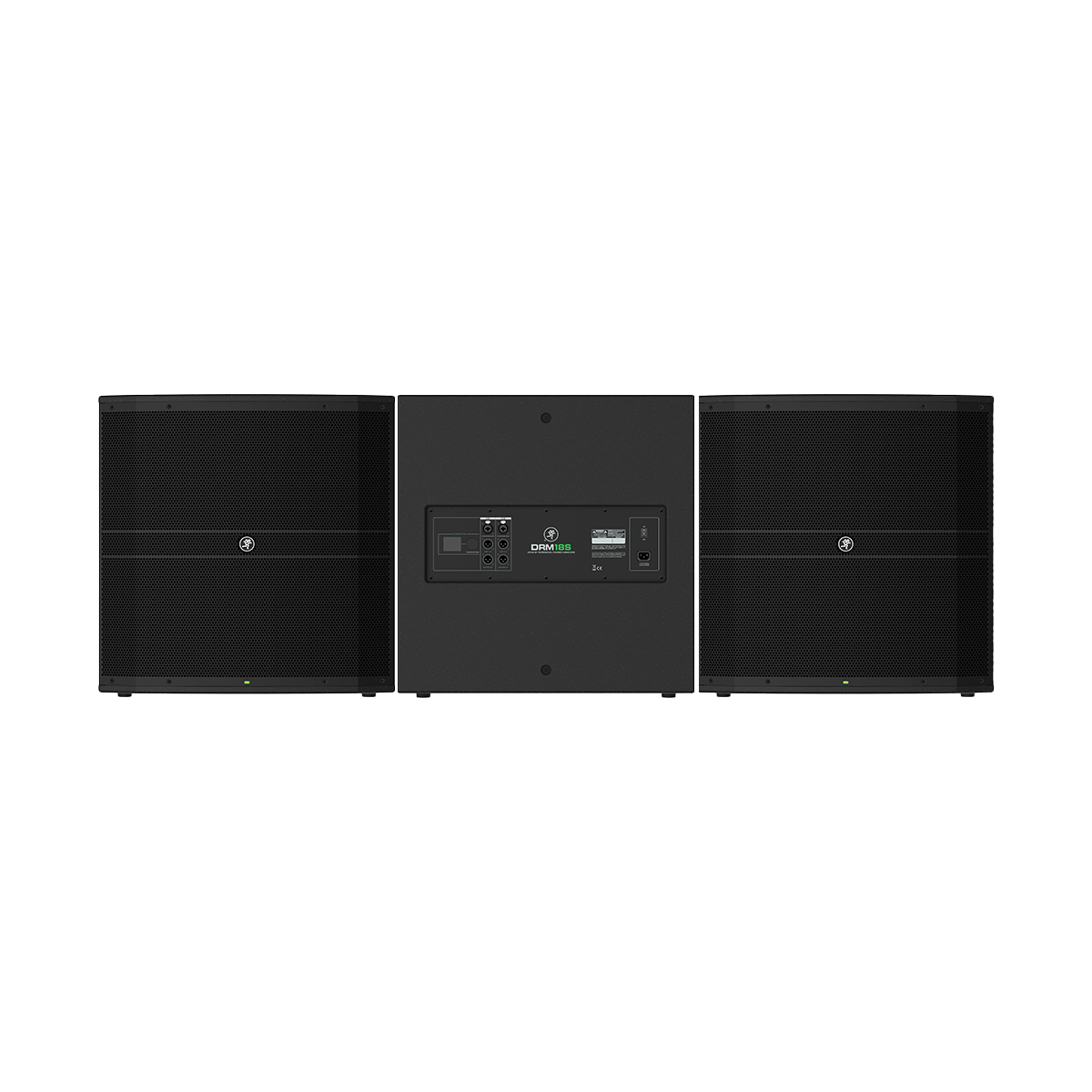 KEEP THE BASS OUT IN FRONT
Subwoofers are naturally omni-directional. This means that the sound they project goes in all directions. This can sometimes cause excess bass buildup, feedback issues, and more on stage. That's where cardioid comes in. Cardioid subwoofer setups are incredibly helpful when you want all that rumble off of the stage and out to your audience. It accomplishes this by utilizing multiple subwoofers, with one facing in the opposite direction. This works because the rear-facing sub cancels out quite a bit of the bass that would otherwise be shaking the stage and in turn sends it all you your audience. The DRM18S has settings located in the DRM Control Dashboard that make it easy. You can arrange them side by side or in a stack.